Leslie Cardoza - PA
Physician Assistant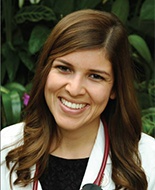 Leslie Cardoza - PA
Leslie Cardoza is a Physician Assistant for Dr. Jay Patel at Orthopaedic Specialty Institute. She works closely with Dr. Patel to manage the care of total joint replacement and arthritis surgery patients within the office, operating room and hospital nursing units. She is also his surgical assistant in the operating room.
Leslie also has a background in athletic training. She graduated cum laude from California State University, Fullerton, earning a Bachelor of Science in Athletic Training. After graduation, she worked as a per diem certified athletic trainer at Mt San Antonio College, while she began to pursue her education as a physician assistant. Leslie graduated with a Master of Physician Assistant Practice from the Keck School of Medicine of USC.
She is a member of the American Academy of Physician Assistants, California Academy of Physician Assistants and National Athletic Trainers' Association. She enjoys an active lifestyle such as running, golf, soccer, softball and spending time with her dogs.